Game 19 - Washinton Nationals (12-5, 6-2 Road) at New York Mets (8-10, 4-7 Home)
Probable Pitchers: WAS -

Max Scherzer (2-1, 1.37 ERA) vs NYM -

Zack Wheeler (1-1, 5.52 ERA)
TV/Radio: ESPN/WOR 710 AM
Game Time: 8:05 PM
Batters vs Pitchers Stats at bottom of Page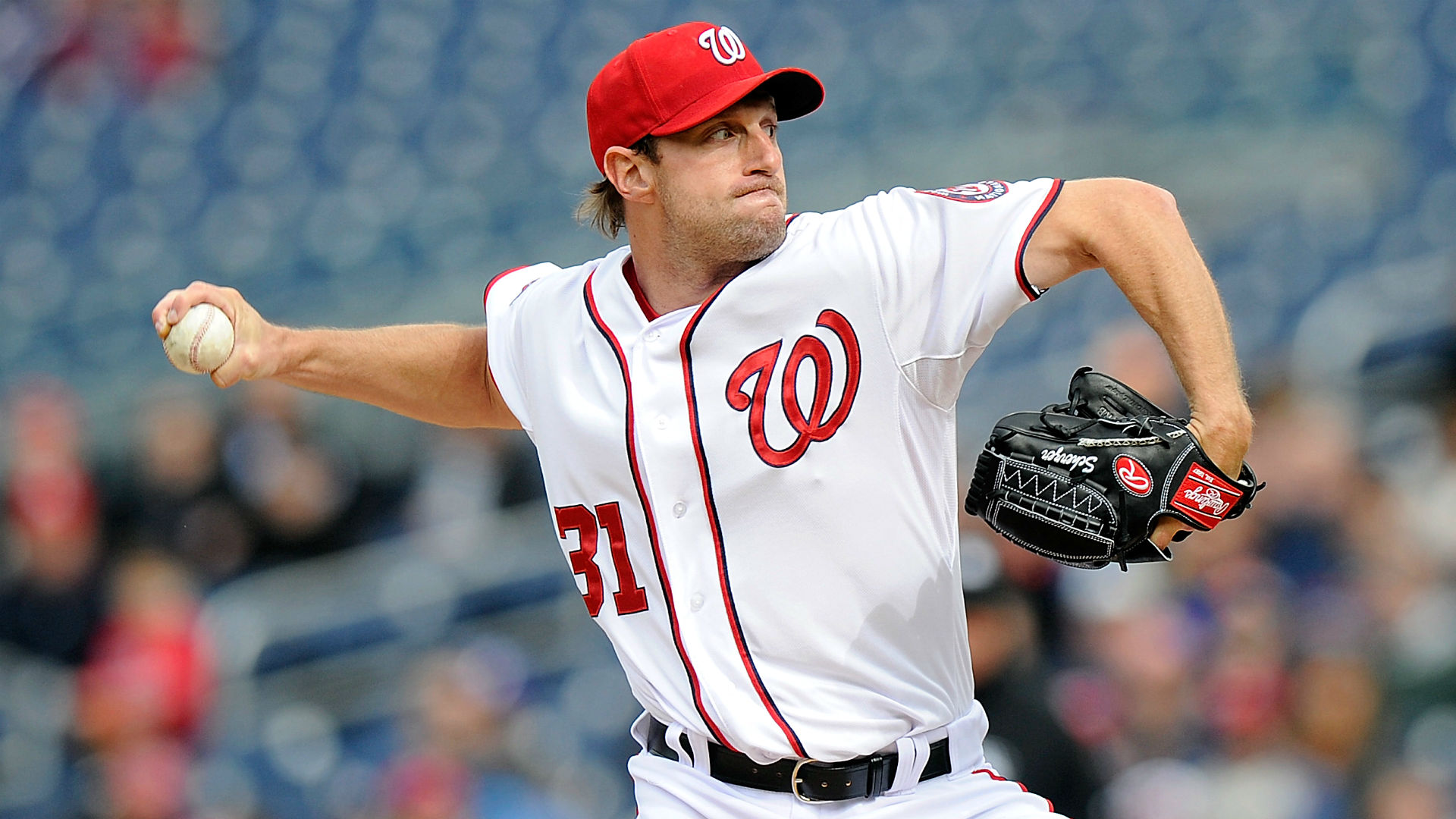 >
The plan is simple for the New York Mets. The actual implementation may be considerably harder Sunday night when the reeling Mets host the surging Washington Nationals in the finale of a three-game series at Citi Field.
The Nationals (12-5) won their sixth straight game Saturday with a 3-1 victory over the Mets (8-10), who have lost seven of eight, a stretch in which they have scored only 23 runs.
On Saturday, Nationals left-hander
Gio Gonzalez carried a no-hitter into the sixth inning and combined with three relievers on a two-hitter. The four Washington pitchers teamed up to retire the final 11 Mets batters in order.
"One of the things we keep coming back to is we just have to start to get some guys on and start getting some base hits," Mets manager
Terry Collins said.
Alas, that might be easier said than done Sunday, when reigning National League
Cy Young Award winner Max Scherzer takes the mound for the Nationals against Mets right-hander Zack Wheeler.
Not only is Scherzer 2-1 with a 1.37 ERA this season and fresh off allowing two hits over seven shutout innings in earning the win in the Nationals' 3-1 victory over the Atlanta Braves on Tuesday night, but also one of three pitchers in history to strike out 20 batters in a game (against the Detroit Tigers on May 11, 2016) and one of four active pitchers with two no-hitters.
One of those was a gem against the Mets at Citi Field on Oct. 3, 2015 in which he struck out 17 and missed perfection only because third baseman
Yunel Escobar committed a throwing error.
"We just have to continue to put good swings on the baseball no matter where we hit them," Collins said. "Try to find some spots where nobody is standing. And right now, we haven't been able to do it."
The Nationals' winning streak has been fueled by Scherzer and the rest of his rotation-mates. Washington starters have recorded a 2.40 ERA while pitching into the seventh inning in each of the last six games.
"That's a good feeling right there," Gonzalez said. "Your starters are going deep in the game, it's fun. These guys are just trying to piggyback off each other."
The Nationals are looking to complete their first series sweep of the Mets in New York since Aug 12-14, 2014.
"It was a very good job," Nationals manager
Dusty Baker said following Saturday's win. "We've just got to complete the job tomorrow. We know how tough the Mets are here in their ballpark."
Scherzer is 5-3 with a 1.83 ERA in 11 games (10 starts) against the Mets. The ERA is the lowest he has produced against any team he's faced at least 10 times.
Wheeler didn't factor into the decision in his most recent start Tuesday after allowing one run over five innings in the Mets' 6-2, 10-inning loss to the Miami Marlins. He is 2-6 with a 5.09 ERA in eight career starts against the Nationals.
Batters vs Pitchers Stats:
NEW YORK METS CAREER STATISTICS VS. MAX SCHERZER (5-3, 1.83 ERA)

BATTER
AB
H
2B
3B
HR
RBI
BB
SO
AVG
OBP
SLG
OPS

Jay Bruce

7

3

0

1

1

2

2

1

.429

.556

1.143

1.698

Asdrubal Cabrera

54

13

4

0

1

4

3

17

.241

.281

.370

.651

Yoenis Cespedes

14

3

1

0

1

1

2

7

.214

.353

.500

.853

Michael Conforto

8

2

0

0

2

2

1

2

.250

.333

1.000

1.333

Travis d'Arnaud

8

1

0

1

0

2

0

3

.125

.111

.375

.486

Lucas Duda

8

2

0

0

0

2

0

4

.250

.250

.250

.500

Wilmer Flores

11

0

0

0

0

0

1

7

.000

.083

.000

.083

Curtis Granderson

27

9

3

0

2

4

7

6

.333

.471

.667

1.137

Juan Lagares

8

1

0

0

0

0

1

5

.125

.222

.125

.347

Brandon Nimmo

6

1

0

0

0

0

0

3

.167

.167

.167

.333

Kevin Plawecki

9

2

0

0

0

0

0

3

.222

.222

.222

.444

Jose Reyes

17

5

1

0

0

1

1

4

.294

.333

.353

.686

Matt Reynolds

3

0

0

0

0

0

0

2

.000

.000

.000

.000

Rene Rivera

9

1

0

0

0

0

0

4

.111

.111

.111

.222

Neil Walker

17

3

0

0

2

4

1

6

.176

.200

.529

.729

David Wright

9

0

0

0

0

0

1

1

.000

.100

.000

.100

Totals

215

46

9

2

9

22

20

75

.214

.280

.400

.680
Source : http://www.metschronicle.com/2017/04/preview-2017-season-game-19-nationals.html